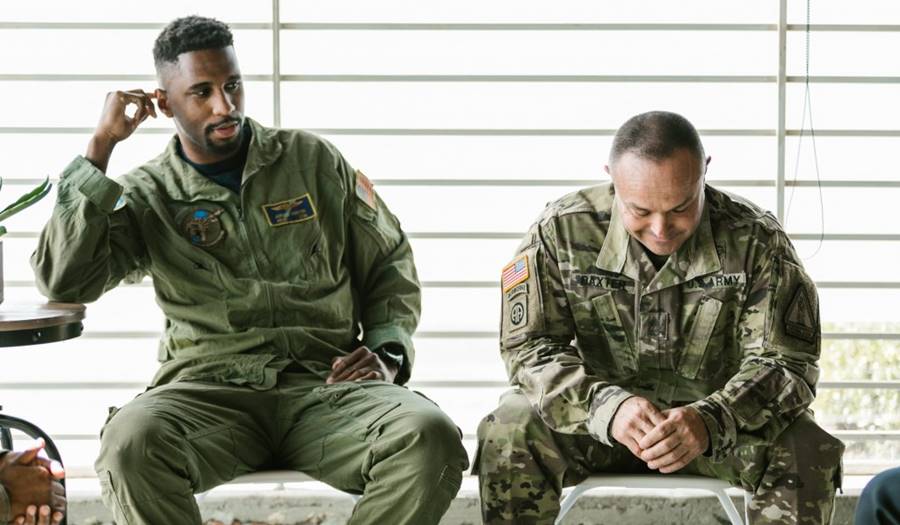 Managing Military Finances
3/6/2023
It's not uncommon for military members and their families to struggle financially. In fact, for many in the military, financial concerns weigh on them more than deployment. Nearly 9 in 10 active service members and 84% of spouses or partners have worries about personal finances, according to the NFCC. There are a lot of specific things about personal finance that relate to being a military service member, partner, or spouse that don't apply to others. Therefore, it's important for military families to have the proper tools they need to manage their finances the right way.
Listen to our Podcast: 

Military Pay
Basic Pay is the fundamental way the military get paid on a monthly basis. Two main factors affect where you fall on the basic pay scale: your years of service and your rank, which generally correspond with your military paygrade. In general, basic pay makes up the biggest portion of your pay and, unless you're serving in a tax-free combat zone, is taxed like ordinary income.
There are other financial incentives available for military members aside from their base pay. The BAS, or Basic Allowance for Subsistence, is an allowance that is essentially for your food. There's also the BAH, which stands for Basic Allowance for Housing. The military provides free or subsidized housing for all of its members. The amount of BAH is dependent upon your rank, location, and the number of dependents you have. The Overseas COLA or Cost of Living Allowance is a non-taxable allowance designed to offset the higher prices of non-housing goods and services. Overseas COLA is not a fixed amount and is dependent on the local currency and cost of living in your current country. You'll only receive COLA if you're outside the US.
Read More: Understanding Military Pay And How To Start Saving
Retirement Savings for Military Members
Just as with civilians, it's important for military members to invest in their financial future. Military members will have the opportunity to contribute to their retirement via TSP or Thrift Savings Plan. This is a Federal Government-sponsored retirement savings and investment plan. If you decide to enroll in the TSP, deductions will appear on your pay stub. TSP accounts are like a 401k plan in that military members can elect to make contributions from their base pay. The minimum to contribute is 1% of base pay.
Military members can also take advantage of an IRA, if they're looking for another way to invest in their retirement. For 2023, service members can contribute up to $6,500 to a traditional or Roth IRA. Traditional IRA contributions may be tax-deductible, while Roth IRA's offer the benefit of tax-free withdrawals in retirement. Whether it makes sense to choose a traditional or Roth IRA can depend on how much you're making now versus your expected retirement income.
Budgeting in the Military
It's crucial for military members to maintain their budget. Not only do military members need to include fixed and variable expenses in their budgets, but they also need to account for other things that civilians don't have to. For example, military members must budget for getting a haircut every week. The military does provide a discounted haircut on base; however, many members opt to go for a nicer cut that they would have to pay full price at a barber for. Military members also must include extra dry cleaning in their budgets. The military does give a yearly allowance for dry cleaning, but there are extra times that dry cleaning is needed. To learn how to create a budget you can click here.
Permanent Change of Station
A big part of being in the military is being mobile, that means changing duty stations. Permanent Change of Station (PCS) orders are a longer-term assignment, generally 2-4 years. You'll either be moving inside or outside the continental United States. As a service member, you probably expect a permanent change of station to be a part of your military life. Constantly moving is something that military families must budget for. Moving means starting over in an entirely new house that needs to be furnished and made to feel like a home. You might also need a new vehicle, depending on the terrain in your new location. You could also be moving somewhere where the cost of living is significantly more expensive than in your current location. This means you'll need to re-work your budget entirely to your new cost of living.
Read More: How To Manage Your Finances While In The Military
Moving so frequently puts an added stress on military spouses and partners. With constantly moving, it can be hard for them to find a steady job to help provide for the family. In fact, active military members have reported concerns over finances and 41% considered spousal unemployment or underemployment a major source of stress. There are many resources available for military spouses to find work. VeteranLife is a resource that's available for military spouses to find employment in their area. If lack of childcare is a reason to not work, Child Care Aware is a service available for military families. They work with a national network of more than 400 childcare resource and referral agencies to ensure that all families have access to quality, affordable childcare. As long as the spouse or partner is working or in the process of looking for work, they can apply to the program to obtain childcare for their child or children.
Pre-deployment
When a military member finds out they're going to be deployed, it can take a financial toll on not only themselves, but their family. A way to ease this stress is to get your finances in order to help eliminate that burden. Although you'll be deployed, you'll still have monthly bills that need to be paid. Go through all of your monthly bills and make all of your regular payments automatic. Before you leave home, establish online access to your bills and bank accounts to help you keep up to date with your finances during your deployment. Talk with your partner or spouse about how household finances will be handled during the deployment. Come up with a plan for accessing and using all checking, savings, or investment accounts.
Read More: Military Pre-Deployment Financial Checklist
A power of attorney is a legal document giving a person the power to act for another person. Naming a power of attorney is crucial before leaving for deployment. The person whom you select to be your power of attorney should be someone who you trust to act on your behalf in your absence. Having a will and testament is strongly recommended if you're actively deployed. You can change your will at any time. You'll need to update your will if you get married or divorced, or if a birth or death in your family affects your plan, or you change the state of your legal residence. The military provides a legal assistance office that can help you create a will that suits your desires and needs.
College opportunities
The military offers financial resources for service members who'd like to attend college. The military offers 100% tuition assistance and your time in the military can count towards college credits. So, you'll already be going to college with some credits. The Post 9/11 G.I. Bill provides aid for college education or on-the-job training for those who served on active duty after September 10, 2001. Benefits include support for college degrees, testing costs, job training, apprenticeships, and more. It's a great idea to take advantage of college if you're in the military. You can use your degree after you've retired to pursue other passions you may have.
You can also pass on your Post 9/11 G.I. Bill to your dependents or spouse to help them pay for college and avoid some student loans. If you want to do this, you must agree to an additional four years of service. You also must have at least 6 years of service and you're also required to transfer your G.I. Bill no later than the end of your 16th year of service If you're planning on passing off your G.I. Bill to your dependents, it's also a good idea to start a 529 account for them. This way, they might be able to go to college without taking out student loans. You can learn more about the 529 College Savings Plan here.
Serving in the military affects every aspect of your life and your family's life. You'll have to plan financially accordingly. Decide how much of your base pay you want to contribute to your retirement savings. Once all your investments are accounted for, start a budget. Make sure to include constant moving fees and other Military expenses in addition to your fixed and variable expenses. When you find out you're being deployed it can be stressful for you and your family. Help alleviate that stress by taking care of various financial aspects of your life before you deploy. Make the most of your military service by taking advantage of the college opportunities the military provides.
Thank you to everyone in the military for their service.
Katherine Fatta is the Social Media and Content Specialist at Navicore Solutions. She creates fun and informative social media posts that engage the public. She's also the host of Navicore's podcast, 'Millennial Debt Domination.' You can listen to our podcast here.
You can follow Navicore Solutions on Facebook, Twitter, LinkedIn and Pinterest. We'd love to connect with you.