Become a #DebtWarrior and win your money game.
Millennials have the most debt out of any generation. Katie Fatta, of Navicore Solutions, is a millennial who wants to help you dominate that debt. If you are a millennial or a part of Gen Z, this podcast is here to help you better understand your debt, finances, and money. Learn to be a debt warrior and you won't be scared to check your bank account app anymore.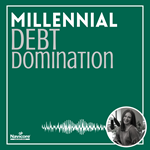 Join Katie every month for an entertaining and informative podcast. Gain the tools to take control of your finances and slay your debt.  Katie discusses all things money, from student loans and when to start an IRA to how to manage financial anxiety.
You can listen to our latest episode here:
Want to suggest a topic to Katie?  Contact us at: olm@navicoresolutions.org
Want to hear more episodes?  You can find them all here.