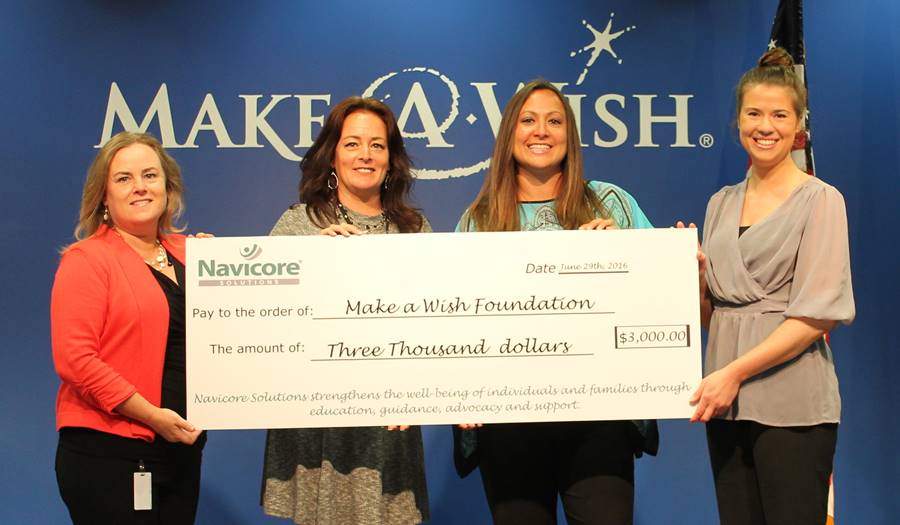 Navicore Staff Donates $3,000 To Make-A-Wish, Nj
6/30/2016
Navicore Staff Donates $3,000 to Make-A-Wish, NJ
---
Navicore staff have been honored to raise just over $3,000 in their latest charitable campaign.
During the course of a year our employees held numerous fun competitions, raffles and events to collect funds for the Make-A-Wish Foundation in New Jersey, demonstrating the generosity and caring nature of our Navicore family.
Navicore's Lori Stratford, Maureen Rodriguez and Christina Kennedy presenting Emily Schonberg from Make-A-Wish with the donation for $3,000 on behalf of all Navicore Solutions staff members.
'The Make-A-Wish foundation grants the wishes of children with life-threatening medical conditions to enrich the human experience with hope, strength and joy.'  We had the pleasure of visiting the 'Wishing Castle' to deliver the donation in person to Emily Schonberg, Manager of External Events at Make-A-Wish.
The Wishing Place Castle in Monroe, New Jersey
Emily very graciously showed us around the building, highlighting the details that make the Wishing Castle magical.  The extraordinary details included in the castle were designed with the help of Disney Imagineers and include mazes, self-playing pianos, an 'inspiration' room and 'wishing' room.  The Wishing Room is the most magical place, where the dreams of the Make-A-Wish children are made to come true.
The Make-A-Wish site refers to this room as follows, "The act of wishing should be a uniquely magical moment, an event that is somehow out of the ordinary, taking place in a thematic environment free of limitations, confinement, or stress. Inside the Wishing Room, the child will experience an enchanted and transformational environment and answer the magical question, "If you had one wish, what would it be?"
Emily Schonberg shares her passion for Make-A-Wish in the entrance to the Wishing Castle.
"We like to say that [Make a Wish] picks up where science and medicine leave off and that the power of a wish can affect the way a child responds to treatment." Emily said.  She continued to speak of the emotional side of working with these inspirational children and families that "not everyday is easy, but every day is worth it."
Chris Greicius, whose wish to become a police officer in 1980 was granted and in doing so, became the inspiration for the Make-A-Wish Foundation.
Lori Stratford is the Social Media Strategist at Navicore Solutions. She promotes the reach of Navicore's financial education to the public through social media and blog content.
You can follow Navicore Solutions on Facebook, Twitter, LinkedIn and Pinterest.  We'd love to connect with you.