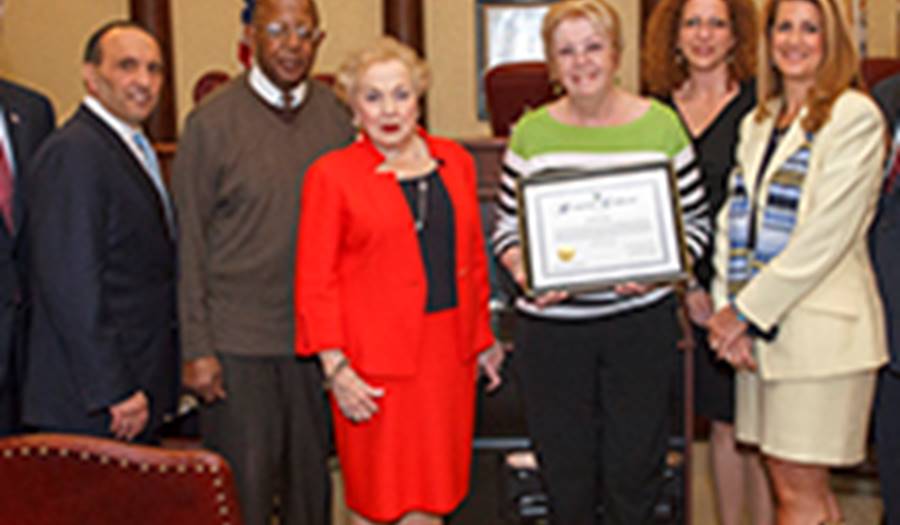 Monmouth Freeholders Recognize Teacher Cynthia Hicks For Fair Housing
5/12/2016
Monmouth Freeholders Recognize Teacher Cynthia Hicks for Fair Housing
---
April was National Fair Housing Month
FREEHOLD, NJ- Cynthia Hicks, a teacher at Marlboro Memorial Middle School, was honored by the Monmouth County Board of Chosen Freeholders for her dedication in educating students about fair housing and eliminating discrimination against those buying a home. Freeholder Lillian G. Burry was joined by the other freeholders at the Board's April 14 meeting and presented Ms. Hicks with a citation proclaiming April 14 as "Cynthia Hicks Day."
April is National Fair Housing Month and Ms. Hicks encourages her students to participate in the Fair Housing Poster Contest, sponsored annually by the Monmouth County Board of Chosen Freeholders. and the County's Fair Housing Board.
"Cynthia is to be commended for teaching students about issues surrounding fair housing," said Burry, liaison to the County Planning Board. "For more than 40 years Monmouth County has been committed to ensuring fair housing choices for our residents. The Fair Housing Office has worked tirelessly to eliminate housing discrimination based on race, color, national origin, religion or disability.
"Cynthia and her students' support of access to fair housing is exemplified by their annual participation in the poster contest that focuses on this subject and keeping this issue at the forefront," commented Burry. "Students benefit from this experience as well as the public. Learning is not limited to those in school, but is a continuous process throughout our lives."
Since 1969, the month of April has been designated as National Fair Housing Month throughout the nation, and during that time the Monmouth County Fair Housing Board has provided community education of fair housing issues, and encouraged activities that address fair housing rights.
The Monmouth County Board of Chosen Freeholders created the Fair Housing Board and charged it with the responsibility of making policy recommendations to the Freeholder Board, encouraging equal housing opportunities and providing assistance, support and information to anyone pursuing the rights allowed by law related to fair housing.