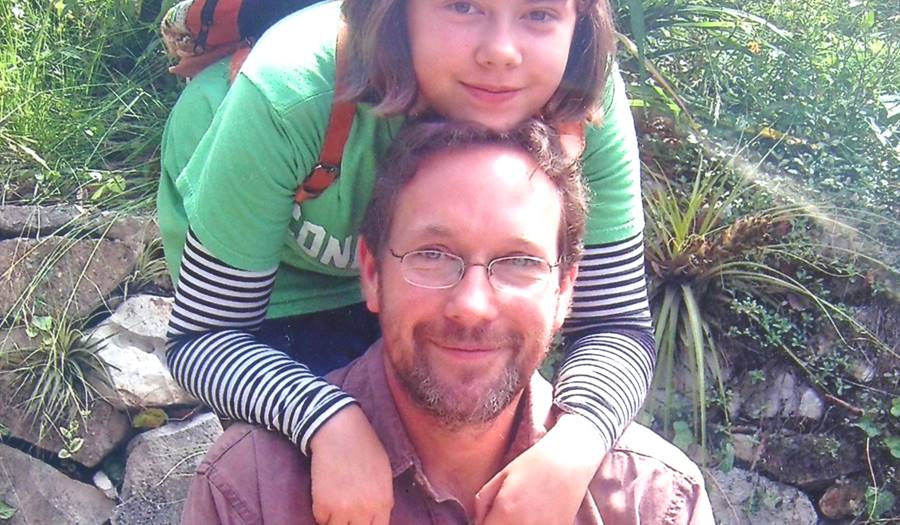 Meet Leo G, Navicore's 2016 Client Of The Year
1/12/2017
Meet Leo G, Navicore's 2016 Client of the Year
---
Chosen from many entries, Leo's story echoes through many of our clients' stories.
Leo is a single parent and an educator from Connecticut who teaches Latin American History at a small college in New London.  "I have a great job making a meaningful contribution to educating the next generations and advancing scholarly knowledge at the same time. Of course my greatest joy is raising my 14 year old daughter, born to my wife during my first month on the job!" says Leo.
Leo's promising career began after a decade of being in school, training to be a professor. He had both undergraduate and graduate student loans to pay each month as he started his first permanent job.  Unfortunately, Leo's wife became sick and passed away in 2007, leaving him to raise their daughter alone.
"After my wife passed away, I found myself a single parent of a five-year-old, a full-time worker, a home owner with a mortgage, and the head of a single-income household. Our savings had been used up fighting my wife's cancer, and almost all of the insurance money immediately went into a retirement fund, college savings program for our daughter, and paying back the money loaned to us by family to make a down payment on our first home."
Leo focused his energy on raising his daughter. "My daughter and I traveled a lot to spend holidays with relatives, we got a dog, and we went to lot of plays and musicals, so that she would not feel alone and lose sight of the joys life still holds. But I did not stay on top of the bills and managing the finances; that had always been my wife's strength, and her talent to make a little go a long way while staying within the budget was sorely missed. With the travel and the entertainment, the loans and the mortgage, credit card debt quickly built up until I could not manage the payments."
Navicore counselors helped Leo collect all of his financial information and determine his total debt and the shortfall in earnings.  He remembers, "They presented options and supported me in developing a plan to earn a little more and make the minimum payments until the full amount was paid back." Navicore negotiated Leo's payment plan with the credit card companies and kept him on track with a single monthly payment. "They also arranged for me to change the date of payments and even postpone a couple of times to accommodate cash flow. Navicore Solutions provided the structure that I needed to handle my financial affairs," said Leo.
"Navicore worked with me for four years, and I am now one month away from paying off my entire credit card debt! The program helped me choose to avoid bankruptcy and–through belt tightening and budgeting discipline– regain a solid financial footing. I can now look forward to continuing to use those budgeting skills, avoid credit cards, and enjoy travel and entertainment again, while staying within what I can afford each month. Hopefully watching me learn and follow good money management has been an important lesson for my daughter, too!"
"I feel liberated from worry and the constraints of such tight budget! Working out a plan with Navicore allowed me to concentrate on my job and not worry every month about covering the bills. It also taught me to distinguish clearly between wants and needs. That's a lesson that I can continue to apply when I become debt free next month! Looking ahead, we're saving up for a trip to England. Our new approach to travel: save up the whole amount and stay within that budget, instead of paying with credit cards and then trying to pay that off!"
Navicore has provided financial education and support to families just like Leo's, all across the country for over 25 years. Take the step to get your finances back on track. Call Navicore Solutions for a credit counseling session at 1-800-992-4557 or click here to get started now. We are here to help.
Lori Stratford is the Social Media Strategist at Navicore Solutions. She promotes the reach of Navicore's financial education to the public through social media and blog content.
You can follow Navicore Solutions on Facebook, Twitter, LinkedIn and Pinterest.  We'd love to connect with you.