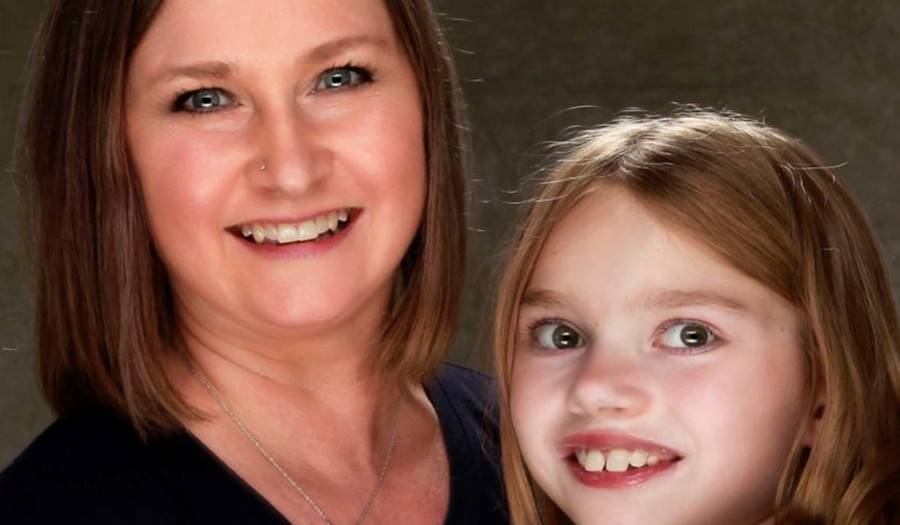 Meet Jenna K. – Navicore's 2020 Client Of The Year
6/1/2021
Meet Jenna K. – Navicore's 2020 Client of the Year
---
After a divorce sent this family into debt, their future is looking bright with Navicore's help.
Jenna and her family live in Illinois and are excited and honored to be chosen as Navicore's Client of the Year.  Jenna lives with her two daughters and has a supportive family around her. Jenna has worked as a Spanish teacher and tutor for 23 years for junior high and high school students.
Jenna's 19-year-old daughter is going to be a senior at the University of Florida, and her 12-year-old daughter is headed into 7th grade.  "Both are amazing children that drown me in love and attention," says Jenna. "I'm a single mom that has been trying to do this on my own since November 2016. My 12-year-old daughter has cerebral palsy, epilepsy, and HLHS (Hypo-plastic Left Heart Syndrome). It is very stressful, trying to keep up with her health, both emotional and behavioral."
Read More: Meet our 2019 Client of the Year
Many little factors led Jenna to fall into debt. "I was debt-free when I separated from my ex-husband, but then when we were trying to sell the house and move, all while getting a divorce, the costs became too much for me. I made a few bad decisions based on emotional survival, and then some based on having to deal with where we had to move to," said Jenna. "Debt started to pile up when a few extra problems arose, and the debt just sucked me in so very quickly.  I was ashamed and surviving, but making no headway at all."
Read More: Meet our 2018 Client of the Year
Jenna found Navicore when she was on a call with a credit card company, and she asked how they could help her. This one question opened the door to counseling and the Debt Management Plan when she was introduced to Navicore. "It was the hardest phone call and decision I had to make. I was at the end of my rope, only paying credit cards on a rotating monthly whim while trying to keep food on the table, and not stress out my family. It was a Hail Mary to control my debt with Navicore's help and to prove to myself that I was not bad with money. I really wanted to get in control of my finances without bankruptcy," she continued.
Read More: Meet our 2017 Client of the Year
"My time on Navicore's Debt Management Plan has been amazing! I'm making more progress each month. I took on a second job and made a budget. The people at Navicore that I have been in contact with have been very encouraging and helpful. I have a positive future, full of confidence that I am worthy and excited for! I feel more capable of conquering my debt every day! I have had such an uplifting feeling about my own abilities to budget and make decisions after an abusive marriage."
In the future, Jenna hopes to find a home for her family. "It's a little difficult to imagine when that will be possible with the current housing market, but it's a long-term goal. I'm also hoping to prioritize a family vacation each year!"
"My daughters have been with me every step of the way. My oldest is very organized and likes to plan, so she is my go-to for advice when I'm considering how to spread out groceries for the week, and even where we might save extra money. I'm showing my daughters how to overcome, build yourself up, reach out and humble yourself for help! I'm so proud of making positive decisions for my family and finances!"
Read More: Meet our 2016 Client of the Year
Navicore has provided financial education and support to individuals and families just like Jenna's for over 30 years. Take the step to get your finances back on track. Call Navicore Solutions for a counseling session at 1-800-992-4557 or click here to get started now. We are here to help.
Lori Stratford is the Digital Media Manager at Navicore Solutions. She promotes the reach of Navicore's financial education to the public through social media and blog content.
You can follow Navicore Solutions on Facebook, Twitter, LinkedIn and Pinterest. We'd love to connect with you.