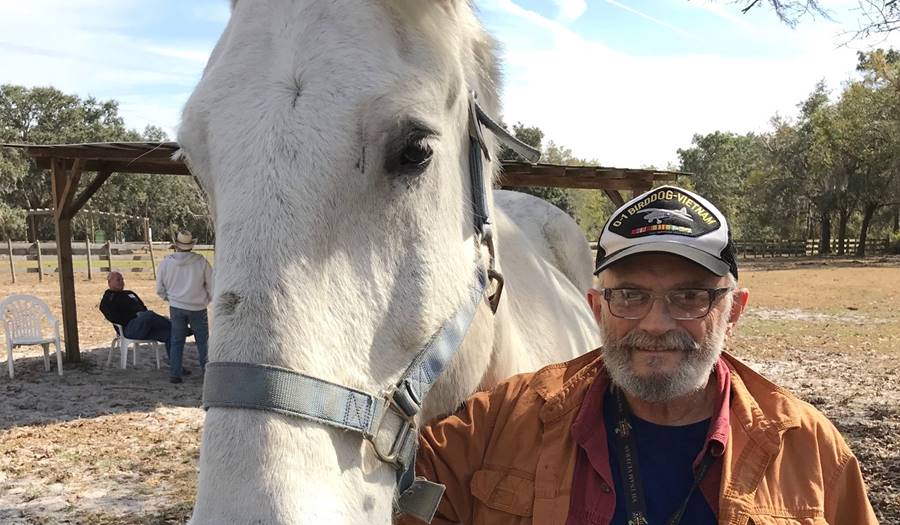 Meet Douglas S, Navicore's 2017 Client Of The Year
1/31/2018
Meet Douglas S, Navicore's 2017 Client of the Year
---
From Vietnam Veteran to homeless and now climbing out of debt, his is a story of hope
Douglas was drafted in May 1970 and, at boot camp, decided to train in cartography. He took drafting classes and wanted to learn a trade while in the Army.  He trained at the U.S. Army Intelligence School at Fort Holabird in Baltimore, MD as an Image Interpretation Specialist.  "I looked at aerial photographs and was trained to identify enemy equipment, plot trails, measure the size of structures, and identify them as to their purpose and plot them on to maps.  I had an ideal "office job" assignment in a non-combat position," remembers Douglas.
He then volunteered to fly in the two-seater 0-1 Birddog Aircraft, referred to as Forward Air Controllers, the smallest of three aircrafts with this designation and the only one without defensive armament.  "Primarily we supported ground troops as needed.  Capable of flying at the slowest of speed, we couldn't out run a slingshot.  Two planes flew at a time just in case.  The pilot flew at treetop level to aid in looking into the canopy for anything we could destroy using artillery, and if out of range any aircraft with bombs. I was well trained in the proper procedures for landing the aircraft if necessary," he said.
After Vietnam he attended night school and received a BS in Management and worked with the postal service in a management role. Douglas married and raised a daughter. However, poor money management led to high debt.
"My debt was at first, a figment of my imagination.  I thought I could handle it by taking out 'just one more' card and make minimum payments.  I was so busy opening up new cards that I didn't know what was to be transferred from which card to the next".
After his daughter entered college, Douglas' marriage ended. He was suffering from Post-Traumatic Stress Disorder, a condition that was not well recognized at that time and he became homeless.
It took over twenty five years for him to be diagnosed with PTSD with dependence on alcohol and, as a result, eligible for disability.  He received a pay check from the original date he filed for disability. His alcohol dependency left him with little of that money after he paid off some old debts.
Douglas had purchased a mobile home with a lanai.  It depreciated quickly and upkeep was expensive.  His mobile home was hit with three hurricanes in 16 years.  The home is 28 years old and has stood up well in the storms, but Hurricane Irma's damage exceeded all the others combined creating a new hurdle.
Read more: Meet our 2016 Client of the Year
Douglas moved into the VA Hospital in Bay Pines Florida in November 2017 and entered the Substance Abuse Treatment Program and Post Traumatic Stress Disorder program.  "Currently there are four Vietnam Veterans and eleven from each theater from the Mideast each with multiple deployments.  I have the deepest respect for these young men, in them I see myself 45 years ago," he said.
Douglas has enjoyed working with wood all his life and it has been a constant source of pleasure.  He currently enjoys making writing pens using woods from around the world.  He also enjoys painting with acrylic paints, and is working on a 30 x 40 acrylic painting of The Last Supper.
"I'm very happy to have found Navicore Solutions. I like that they are a non-profit organization and work hard to represent me. They have reduced the interest I pay on my debts, sometimes to zero. Navicore charges a very acceptable monthly fee, and for what I receive I would be willing to pay more.  The peace of mind in knowing my monthly individual debts would be properly and professionally resolved is a most comforting thought."
"The counselors I talked with made important suggestions for me to consider and made perfect sense to help me eliminate my monstrous debt.  I may have been just one small client to them, but they made me feel like I was the important to them.  Since I started the debt Management Program, creditor calls and letters have been eliminated," said Douglas.
Navicore has provided financial education and support to individuals and families just like Douglas, nationwide for over 25 years. Take the step to get your finances back on track. Call Navicore Solutions for a credit counseling session at 1-800-992-4557 or click here to get started now. We are here to help.
Lori Stratford is the Social Media Strategist at Navicore Solutions. She promotes the reach of Navicore's financial education to the public through social media and blog content.
You can follow Navicore Solutions on Facebook, Twitter, LinkedIn and Pinterest.  We'd love to connect with you.