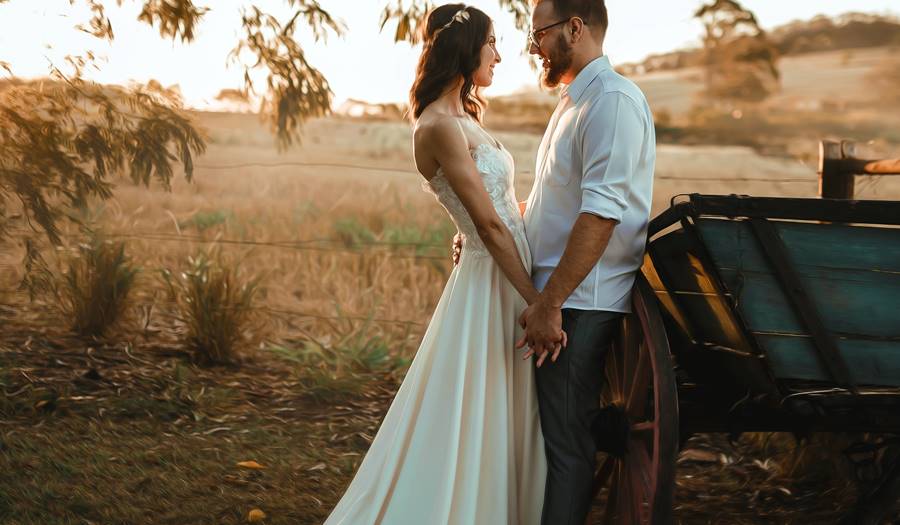 Budgeting Tips For Your Dream Wedding
2/14/2022
Budgeting Tips for Your Dream Wedding
---
It's possible to plan your dream wedding on a budget
Did you just get engaged? If so, congratulations! Now, you're probably ready to start planning that wedding you've always dreamed of. Before you start planning your dream wedding, you'll need to sit down with your partner to plan your wedding budget. Weddings can be super expensive and you don't want to start your new marriage off in a huge amount of debt. So, what factors should you and your partner include in your wedding budget?
Listen to our Podcast:

The wedding budget
A wedding budget is absolutely necessary when it comes to planning your big day. You and your partner need to discuss, not only the factors that go into your wedding day, but also what you want your finances to look like after your wedding day. When you both sit down to plan your budget, you'll want to look at your personal savings for the both of you. It's important to keep in mind your greater life goals and what money you'll need to accomplish those goals. Once that's determined, you'll also want to consider who is planning on contributing to your wedding and how much they plan on contributing. Have those conversations with your family and factor that number into your final figure. Once you've determined that final budget amount, you can then work toward creating different categories within your budget and allocating money to each category.
There are some big factors that go into your wedding budget that will significantly alter how much you spend. Guest count is one of the first things you and your partner want to discuss. The more people you invite, the more money you'll spend. You'll also want to keep in mind the season of the year and the day of the week when you're planning the big day. You can save a significant amount of money by getting married on a weekday, or a Sunday, as opposed to a Saturday. You can also save money if you'd like to get married in wedding 'off season,' such as the winter. This can vary based on where in the country or where in the world you want to get married.
Read More: Budget Wedding Planning
Don't forget these easily missed items in your wedding budget
It's easy to get so wrapped up in the wedding planning that you forget certain aspects that need to be budgeted for. One thing that couples tend to forget to include in their budget is gratuity for their weddings vendors. You'll need to bring a separate gratuity for these vendors and their teams. You'll also want to keep in mind a food headcount for the vendors who will be at your wedding. This can be the photographer, DJ or wedding band, and any of the team they bring with them. Many venues don't include these people in the dinner headcount automatically, and therefore you need to make sure they're being accounted for.
There are also some surprise fees you might not be aware of. Many venues charge a cake cutting fee. This is a price you pay for the venue to cut the cake on top of the price you're already paying for your cake. The more elaborate your cake is the heftier the cake cutting fee will be.
A great wedding hack is to use a fake cake. There are companies that will make you a Styrofoam cake with a real cake bottom layer. They'll use fondant on the Styrofoam and decorate it to make it look like a real cake. This way it'll look great for pictures and you and your partner can cut it, but you'll be saving a cake cutting fee. Provide the venue with a sheet cake to be cut for your guests instead of paying the cake cutting fee for an elaborate cake.
Flowers are the most underestimated cost of any wedding day. Real flowers can be very expensive. Not only are you paying for the cost of flowers, but you're also paying for the florist's time to arrange and deliver them. Most couples don't expect them to cost as much as they do and they might not have allocated enough money in their budget for them.
Read More: Budgeting For Every Dollar
Lastly, don't forget to budget for your marriage license. After all, the point of the whole day is to make your nuptials official! Your marriage license will typically cost you between $20 and $100, depending on where you're getting married. If you're planning a wedding that's not local to you, you'll want to keep in mind that you may need to arrive at your destination a few days early or make an earlier trip there for your marriage license. This might mean extra transportation, meals, and lodging to factor into your budget.
Start Saving
Now that your wedding budget is determined, it's time to start saving for the big day. You and your partner will want to start saving as soon as possible. This might mean altering your regular budget to add more savings to your wedding budget. A great way to add savings to your wedding is to pick up a side hustle leading up to the day. A wedding side hustle, or "bride hustle," will allow you to bring in extra income that can go directly toward your wedding budget. You can find some examples of side hustles here. You could go for a typical side hustle to enhance your savings, or you could even use your expertise for a wedding related side hustle to help you save even more money. If you have the skills, try to find a photographer or even a beauty related assistant job that you can do part time. You'll not only be making extra cash, but you might also be able to save money on their services for your own wedding day.
There are different aspects of your wedding that you can save money on by getting creative. Not everyone has an artistic bone in their body, but someone you might know could. Reach out to your friends and family to see if they, or if someone they know, are creative and are willing to help you with some DIY for your wedding. Ceremony décor, photo booths, and simple table centerpieces are all examples of things that you can DIY at your wedding. This can save you a good amount of money in your wedding budget. If you're looking to save more money, try to find a place that will let you supply your own alcohol. Having a BYOB menu will save you a ton on alcohol costs. If you can't find a place that will let you bring all of your own alcohol, try to find one that will let you have a limited bar. You may be able to customize your own bar and create a few limited cocktails for your guests. This will not only save you money, but it's also a savvy way to get creative.
Read More: Solidify Your Financial Intentions
Now it's time to plan
If you're budget doesn't allow for it, it's okay to skip the wedding planner. If you're not going to hire a wedding planner, budget for a day of coordinator for your wedding. This person will usually help manage your wedding the month leading up to the day as well as coordinate everything that needs to be done the day of the wedding. They will take care of everything, such as vendor deliveries, set-up times, creating a day-of timeline, and all of the logistics that are needed the day of the wedding. A day of coordinator should be budgeted for so you and your partner can enjoy the day.
A wedding planner isn't absolutely necessary for your wedding. Although, if you're short on time or have the budget for it, a wedding planner can be a great help. They can help you not only plan the wedding, but they'll also have many connections in the bridal world. They'll be able to setup meetings with different vendors and may be able to get you discounts in certain places. Whether to hire a wedding planner or just a day-of coordinator is a decision that'll be different for every couple. You have to make the decision that's right for you and your budget.
Read More: 10 Commandments For Financial Success
It's not uncommon to hear a bride say they've gone over their wedding budget. To stay within your wedding budget, get a clear picture of what you and your partner are willing to spend. Look at your life in a bigger picture to determine what that number is. After you've done that, keep track of all of your spending along the way. It's so easy to spend money and not even think about it. There are so many little things that go into a wedding that can add up quickly. Use a spreadsheet or budgeting app to help you keep track of your wedding day spending. Lastly, keep those bigger picture goals in mind while you're spending on your wedding. This will help keep you on track with your budget and will help deter you from going over budget. After all, your wedding is the start of a long marriage between you and your partner. You don't want to start your life off together in debt. Don't forget everyone at your wedding is there to celebrate you and your partner. Sit back and try to enjoy the day as much as you can!
Katherine Fatta is the Social Media Coordinator at Navicore Solutions. She creates fun and informative social media posts that engage the public. She's also the host of Navicore's podcast, 'Millennial Debt Domination.' You can listen to our podcast here.
You can follow Navicore Solutions on Facebook, Twitter, LinkedIn and Pinterest. We'd love to connect with you.