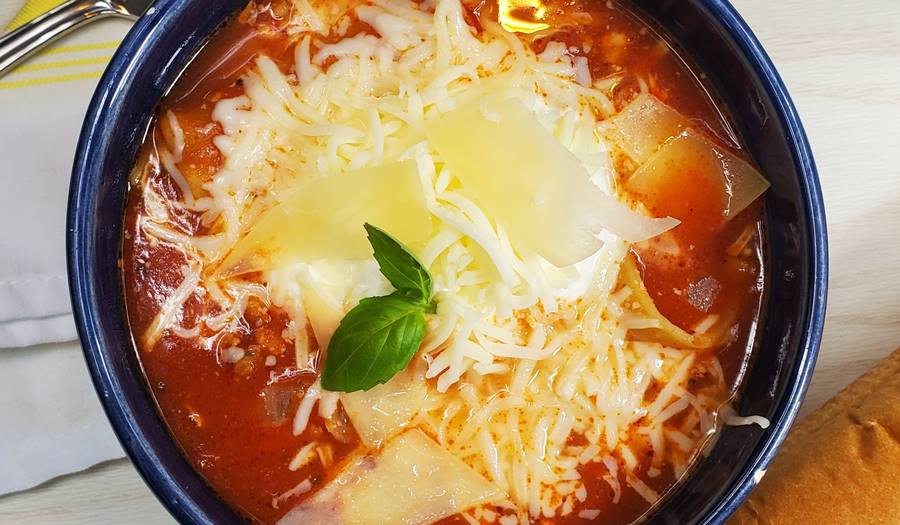 Budget Meals: Lasagna Soup
10/27/2020
Budget Meals: Lasagna Soup
---
This fall favorite is an easy one pot crowed pleaser
The Recipe
1 lb sausage meat
1 onion, chopped
2 cloves garlic, crushed
1 tsp red pepper flakes
1 24oz jar pasta sauce
8 cups chicken stock
2 tbs tomato paste
1 tbs balsamic vinegar
1 tbs basil
1 tbs oregano
1 tsp salt
1 tsp black pepper
1 bay leaf
10 uncooked lasagna noodles, broken
16 oz ricotta
1 bag mozzarella, grated
parmesan cheese, to sprinkle
olive oil, for sautéing
• In a heavy pot, add a few tablespoons of olive oil for sautéing.
•  Sauté the sausage meat and onion until sausage is no longer pink.
•  Add garlic, red pepper flakes and continue to sauté, 1 minute.
•  Stir in pasta sauce, chicken stock, crushed tomatoes, tomato paste, balsamic vinegar, herbs, and salt & pepper.
•  Add the lasagna noodles and stir well.
•  Bring to a boil and then reduce to a simmer.  Cook gently 15 minutes or until lasagna is tender.
•  Serve the soup with a generous dollop of ricotta, a handful of shredded mozzarella, and parmesan to taste. Enjoy with crusty bread.
The Finances
$6.49  sausage meat
$0.26  onion
$0.17  garlic
$1.89  pasta sauce
$2.49  chicken stock
$0.35  balsamic vinegar
$0.14  bay leaf
$2.69  lasagna noodles broken
$2.49  ricotta
$1.99  mozzarella
$0.75  parmesan cheese
From the Pantry
olive oil
salt/black pepper
basil
oregano
red pepper flakes
The Grand Total: $19.71
Lori Stratford is the Digital Media Manager at Navicore Solutions. She promotes the reach of Navicore's financial education to the public through social media and blog content.
You can follow Navicore Solutions on Facebook, Twitter, LinkedIn and Pinterest. We'd love to connect with you.